The regulations for pilots mandate that we have rest times to recover from the stress of the previous work shift and prevent fatigue during the following flight. Honestly, though, the hotels we stay in don't always cut it. After sitting in a cramped metal tube with stuffy air for the entire day, the thought of spending the night in a similar space isn't entirely enticing. And like the airplane, the rest environments are often noisy: traffic, housekeeping, other hotel guests keep jet-lagged crews from getting that all-important shuteye. Enter Hipcamp, the Airbnb for the outdoors, which offers camping on private properties, ranches, vineyards, public parks and more. I recently discovered the site and while many of my colleagues would cringe at the thought of spending their layovers in a tent, getting out under the starry sky and breathing fresh air lets me recuperate better than any of our regular crew hotels will.
A listing with the title "Garden by the Sea", only an hour's drive from downtown San Francisco, is my alternative to our crew hotel during this layover. "Pretty private flower garden" and "charming coastal town" are right up my alley and nearby state and national parks promise daytime activities. I have a plan laid out to leave the city as quickly as possible. I head to Trader Joe's to stock up on food for the next two days. Dangerous goods regulations prohibit me from carrying gas for a stove in the plane. Environmentally conscious, I don't want to buy a canister of gas and throw it away barely used, so I stick with cold meals: bread, salami, cheese, assorted fruits and some snack carrots plus hummus and guacamole for dipping. I throw in a six-pack of IPA I've been curious to try and head back to the hotel, where I fill my backpack with the bare essentials – tent, sleeping pad & bag, outdoor clothing and some basic toiletries. Only a book is missing as my companion. I forgot to bring one from home and my area of town no longer has bookstores (thanks, Amazon).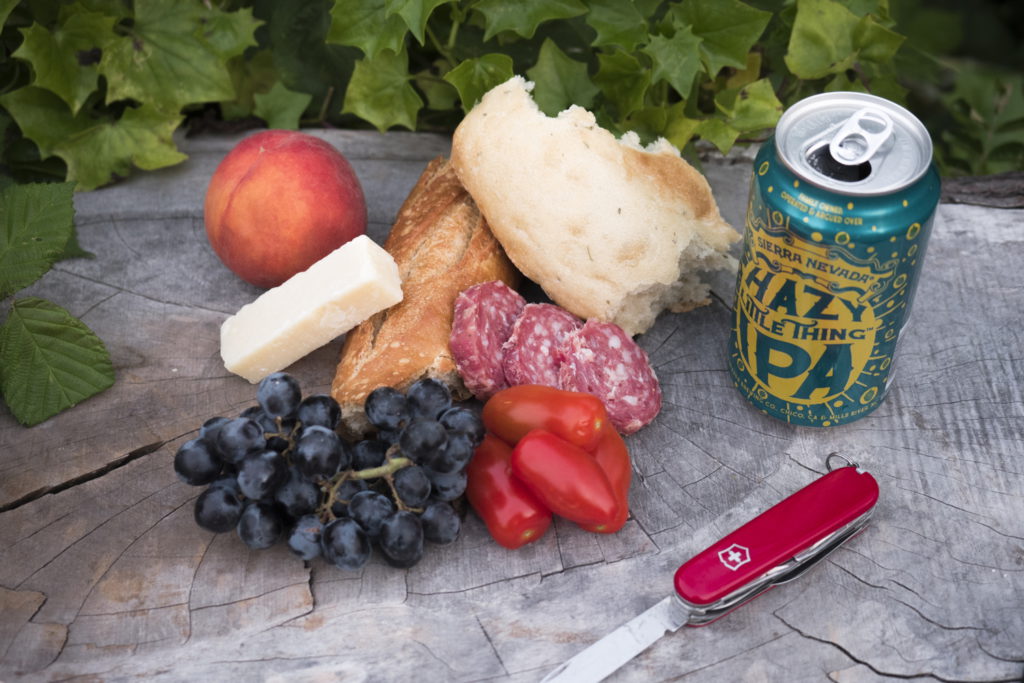 Getting out of the city is tedious, but once I'm on highway 101 the going is good. Past Muir Woods on the Panoramic Highway to picturesque Stinson Beach, I wind through scenic forest landscapes bathed in warm late-afternoon light. I want to set up my tent in daylight, so I resist stopping, even though rambling through the town seems very appealing. I pass the public library and see a shelf with what seems to be used books for sale. I'm too fast to make the turn, wanting first to press on. But curiosity and the longing for a good book get the better of me, so I use the next chance to make a U-turn. Serendipity, it seems, is always my friend, handing me a battered copy of Cheryl Strayed's "Wild", a book I've been keen to get my hands on in English!
From Stinson Beach, I circle Bolinas Lagoon, a tidal estuary that is home to thousands of birds. Just five minutes more and a sign tells me I'm entering the "socially acknowledged nature-loving town" of Bolinas. I drive through botanically named streets like Elm, Fern and Grove, where every other car has a surfboard attached to it. Small houses, worn by weather and time, inhabit large properties, looking like weekend homes whose owners have come to reside in them permanently. My camp hosts greet me and show me the secluded corner of their property where I can set up my shelter for the next two nights. Tired from the long day, my body rightly feeling like it's four in the morning, I pitch my tent and eat dinner. Comfortably content, I retreat to my sleeping bag and sleep the best sleep I've had in weeks.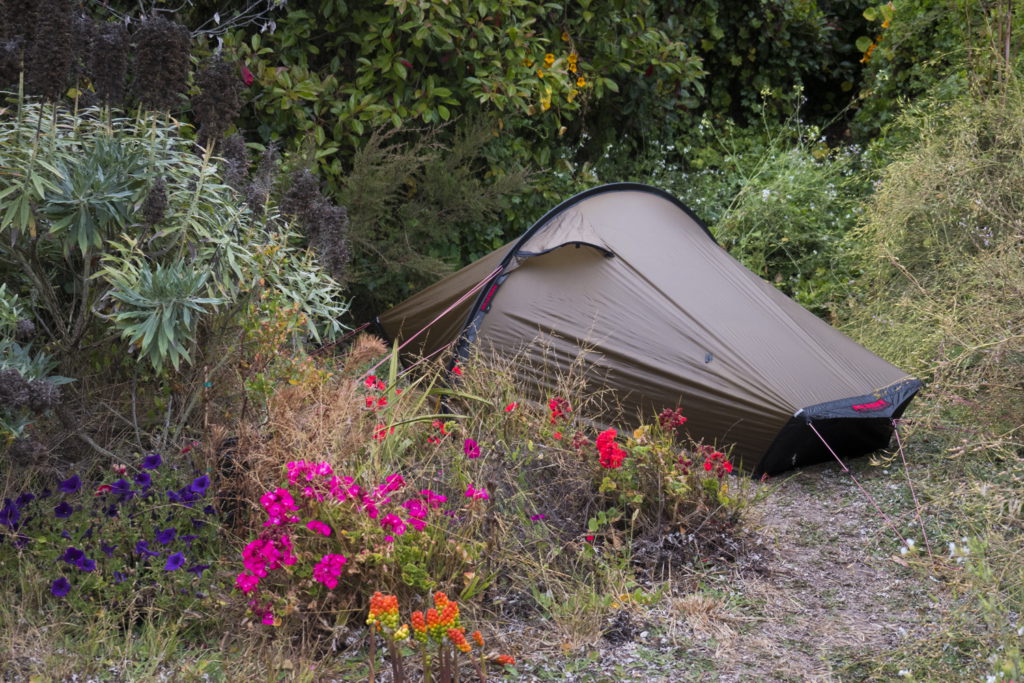 The next morning, I wake with the sun and go for a walk to get the lay of the land. On Bolinas Beach, I am nearly alone. The only souls I see are some surfers braving the cold Pacific waters and a few people taking their dogs for a morning stroll. I walk the streets of the ocean community, taking in the sights and smells. Some of them remind me of my childhood on the country's Atlantic coast, others are alien. When it comes to nostalgia, of all the senses I'm probably most fond of smell. Just a whiff of pine trees in the sun or the salty air of the sea take me back to a thousand images of a time long ago. Add the ever-present sound of the crashing waves, and I feel completely like the child that explored the coastal landscape of New England so long ago.
Bolinas is a special place, not just because it is geologically not part of North America (like Los Angeles, it's on the Pacific Plate, west of the San Andreas Fault), but because it looks as if time has stopped here somehow. If it weren't for the modern cars parked in the streets, the quaint galleries, shops, and restaurants would let me believe I've been taken back to a time half a century ago. And indeed, I later find out that development has been intentionally inhibited since 1971.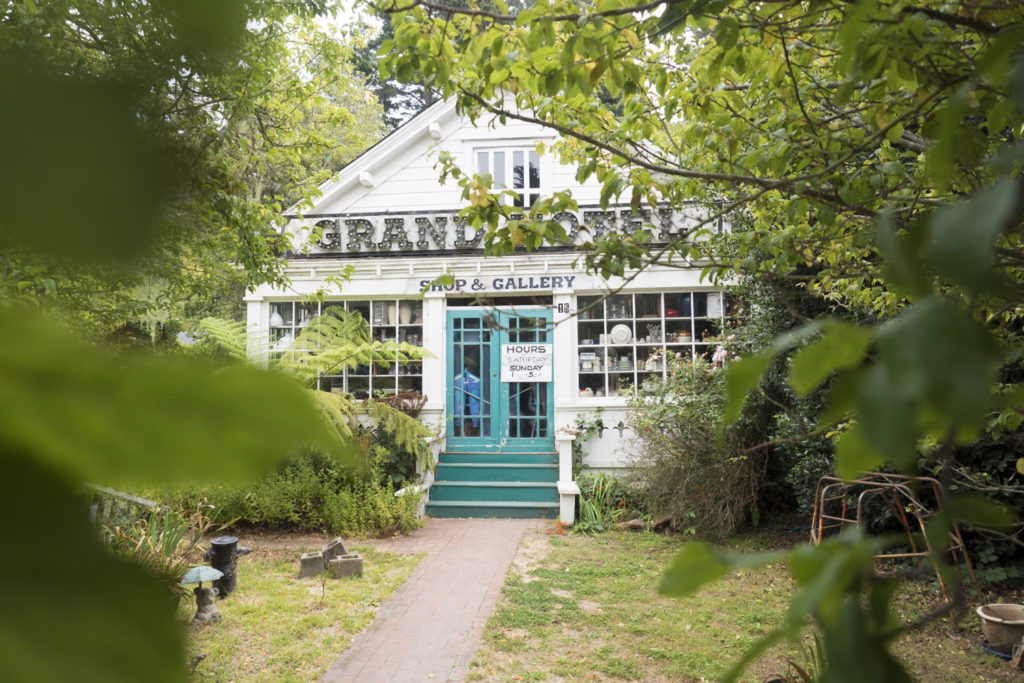 The fog taking longer to dissipate today, my camp host recommends I drive up to the Bear Valley trailhead to hike some of Point Reyes National Seashore's blissful trails. Going for one of the longer loops, I start with the rampant uphill slope of the Mt. Wittenberg Trail, passing through a fascinating arboreal diversity to an open meadow. The detour to the peak of Mt. Wittenberg tempts me, adding only 600 m to my hike. For some reason, I decide I want to run up the steep incline, probably because I think it's time for the ESA to screen new astronauts and I seriously need to improve my fitness before they do. I know because I don't make it far before reverting to a brisk walk.
After a short breather, I continue to the Sky Trail, where coastal views take turns with dense forest. Coming ever closer to the Pacific Ocean, I reach a stretch of trail overlooking the water after 10 km (6 mi). The return via the Bear Valley Trail is rather bland in comparison to the more strenuous hike down to the coast, the only real highlight being the creek it follows for a while. If you do this loop and are fit enough to do the tougher parts in the second half of your hike, walk it clockwise, beginning with the Bear Valley Trail and ending with the Mt. Wittenberg Trail (total distance 16.8 km / 10.5 mi).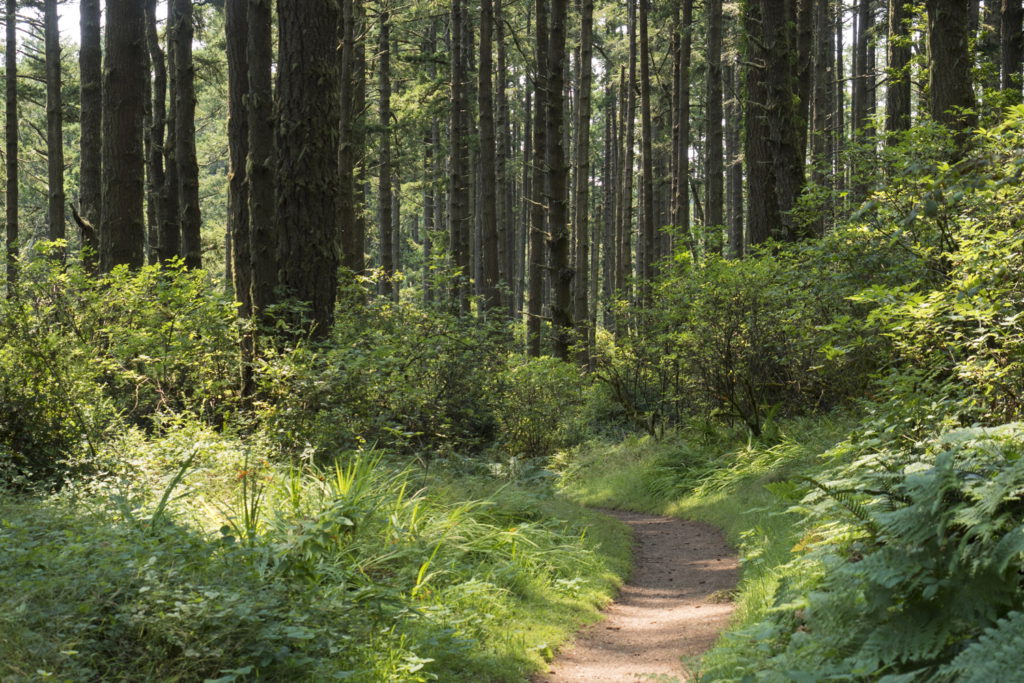 I end the day at Stinson Beach, letting the sun sink slowly toward the horizon before I return to my campsite for another night away from it all. Before leaving Bolinas, I stop in the town's center, eating one of the fabulous chocolate croissants I fell in love with yesterday at the Coast Café's Coffee Kiosk (the Chai Latte is amazing, too). I strike up a conversation with a few locals, one of whom invites me to his gallery just around the corner. It turns out Keith is a spectacularly talented artist specialized in wildlife and has, among other impressive achievements, illustrated the iconic "Birds of the Sierra Nevada".
I return to San Francisco rejuvenated, even convalesced as if from a sickness. Nature has that effect, as does solitude every once in a while. More than ever before, I've used my rest time to really rest. I am ready to fly back home, but a part of my heart will forever stay in Bolinas.