Among the most important lessons a pilot has to learn is that no one is perfect and that everyone makes mistakes. This insight is the foundation of many of our procedures. It's why we have two-pilot cockpits and two-way communication. It's why a young first officer is allowed, even encouraged to question the decisions of an experienced captain. No matter how old you get or how much you've seen, something new is bound to come your way and you're never safe from messing up.
It's my first trip to Bangkok and I'm excited to explore the city with Larissa. Early in the morning, we take the Sky Train to Saphan Taksin station, from where we want to cruise up the Chao Phraya river with a water taxi. Checking our map at a street corner gives a local enough time to approach us. His friendly comment lets me lower my guard: "Hello, you are big man!". I've heard it before and I'm sure I'll hear it again. In Asia, being 6'6″ (1,95 m) tall is a sure way to get noticed. That's why I'm certain there are no bad intentions. We talk for a while, he asks where we're from and tells us he has also lived and worked in Frankfurt for six months. 
We tell the man about our plans to visit Wat Arun and Wat Pho, two of the most popular temples in Bangkok. He recommends waiting until the afternoon when there will be fewer crowds. As for the water taxi, he says it's currently low tide and the boats will not run from our area for another one or two hours. Instead, he offers to get us a tuk-tuk, the ubiquitous three-wheeled, powered rikshaws buzzing around town. They're usually a rip-off, but with a local helping us out, the price of 30 baht (less than $1) is more than fair for the ride to a water taxi stop further upriver via a small, lesser-known wat.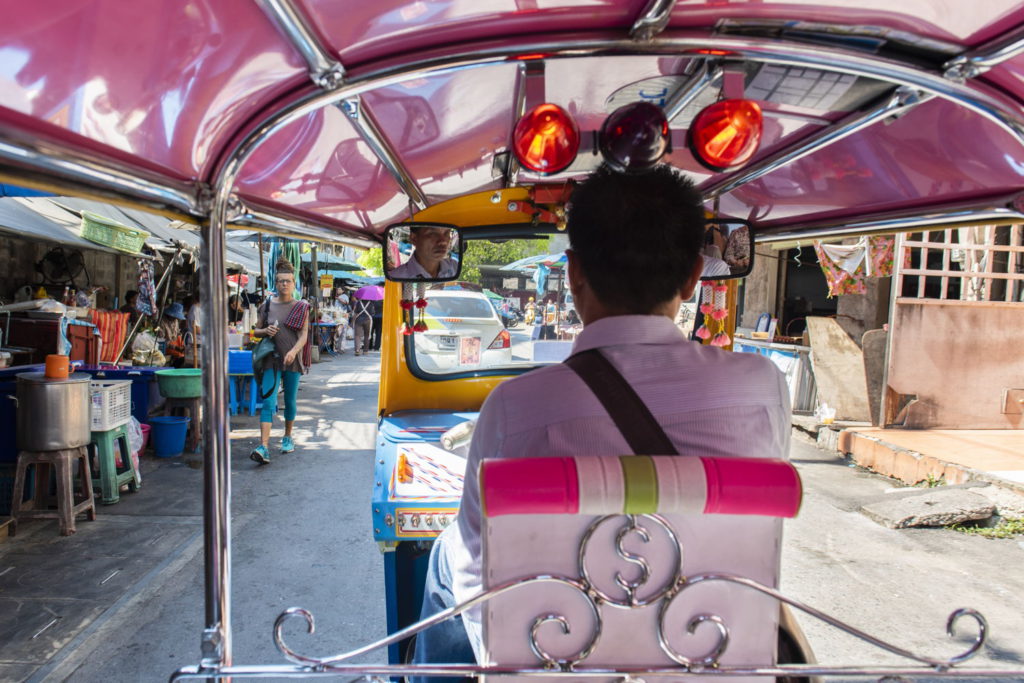 Holding on to our bags and laughing with excitement, we zip through the streets of Bangkok to Wat Maha. Located in a quiet side street, it is free of tourists as we are led into a building with a Buddhist altar. We look in awe and take a picture before we are quickly ushered to the next building, where a reclining Buddha awaits. There is also a temple host sitting in the corner, who looks excited to see us and asks us to sit with him. We really just want to take in the sights, but also don't want to appear impolite. So we join him, telling our story. We learn he has lived in Stuttgart, where he worked for Mercedes. And all this time, I thought Thais in Germany only had massage parlors!
It's all very fascinating, but the conversation quickly loses its charm when the host says we absolutely need to go to a certain shopping center. We're not here to buy stuff but thank you. He won't hear it and tells us that there is a place on the second floor that makes clothing for the king: Ei Epsi. Only this week it is open to the public and today is the last day. What a coincidence! Just so we don't forget, he repeats it three times. Ei Epsi (he pronounces it "aye ep-thee"). We nod and promise to have a look. Neither of us has any interest in buying clothes, but we don't want to offend our host. We are in a temple, after all!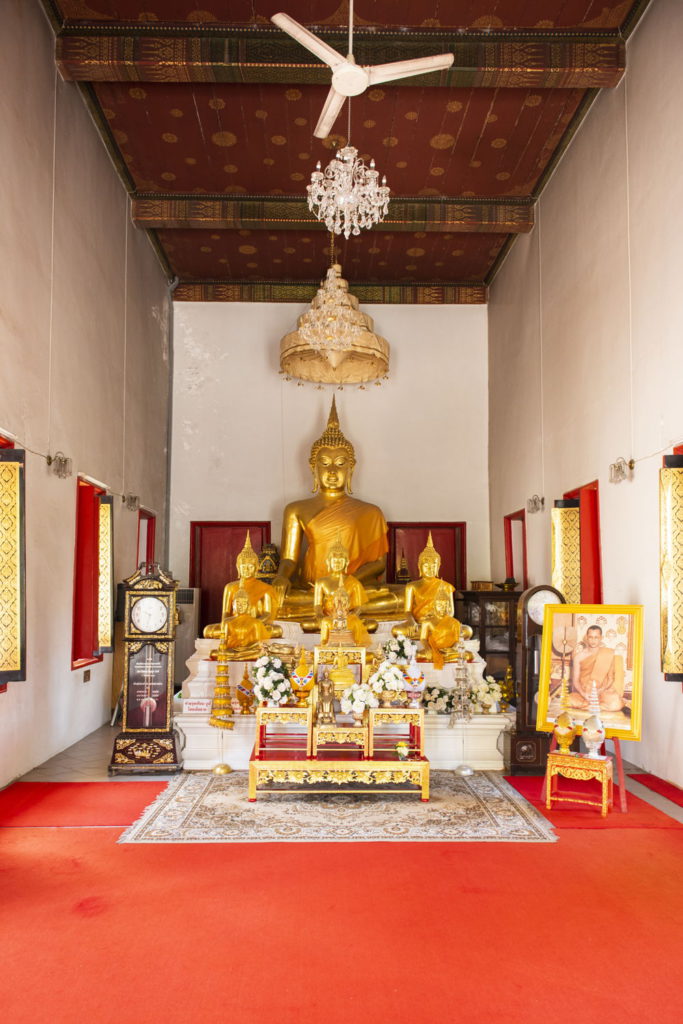 The tuk-tuk whisks us to a large store where we realize "aye ep-thee" was simply an abbreviation pronounced by someone who seems to have ping pong balls in his cheeks: IFC is short for International Fashion Center! It's just a large clothing store and we're still too courteous to tell the driver that it's time to keep driving. We enter the establishment and see all the things we don't need. But we've forgotten about the second floor. The staff has already recognized us as western foreigners and leads us upstairs, where we actually do make out something we like: custom-tailored clothing. Being as tall as I am, I have a hard time finding anything off-the-rack that fits me, and I've heard that southeast Asia has some great tailors making clothes at a very good value. Ever since flying long range, I've been eager to have a suit made to order. I'm certain that a few people will get their share for bringing us here, but they've done it so artistically that I decide to give it a try. Our sales rep quickly takes my measurements, I decide on fabrics and get an appointment for fitting that evening.
The tuk-tuk driver is beaming as we exit the store, knowing what's in it for him. Finally, we drive to the river to take our boat to the cultural sights we've really been looking forward to. We sit at a counter to buy our water taxi tickets, the woman selling them calculates what we'll need and writes it down for us: 1700 baht. Over $50. "This is not the water taxi, is it?" we ask. No, she tells us, that's one pier further upriver. Now we've had enough: A single ride on the water taxi costs around $1.
While we already had the feeling that we were being taken to a place we didn't want to go for the financial advantage of someone involved back at IFC, now we really know someone has tried to get the better of us. We try to recollect where the scam started. The tuk-tuk driver took us to a commercial boat tour operator instead of the water taxi we had explicitly asked for, so he was definitely in on it. The professional operation at IFC ("second floor, second floor") and the constant stream of western couples being led there from tuk-tuks parked outside meant they were involved, too. What about the guy at the temple? The ex Mercedes engineer now watching over reclining Buddha? Yeah, probably! But the nice man ("I work down the road, I maintain air conditioning units for Siemens.") who just noticed how tall I am and helped us get a tuk-tuk for a really fair price?
It hurts, but he was probably the beginning of an elaborate scheme! What's the chance of flying to Bangkok and within the span of one hour meeting two engineers who both work(ed) for German companies and have spent time in my home country? We got played!
I lived in New York in the time before Rudy Giuliani cleaned up the city. I travel with an anti-theft backpack. I read books like "Escape the Wolf" and "100 Deadly Skills", always being hyper-aware of my surroundings. Yet still, I manage to walk head-on into a scam so friendly it makes it hard to despise any of the people involved. Telling this story makes it all sound so obvious, making me ask myself how I could have been so blind. But when you're in the middle of things, adjusting to new surroundings and trying to stay open-minded, it's easy to miss the bigger picture. That's what these guys take advantage of. The suit is good, though. Maybe I overpaid a little, but I still like to think I got a good deal along with a great story.
On my next trip to Bangkok, I want to go back to that street corner where our adventure started. I'm curious if I'll meet our friend there. Has he forgotten me, one of the countless tourists he's deceived? What will he tell me when I say I'm from Italy? Or the US? One of the deductions the aviation industry has drawn from the knowledge that we are fallible is the importance of sharing experience. If by writing and publishing this text I help only a single person realize they are being taken for a ride, I've done a good deed. If you know someone or have yourself experienced a story like this, or if I've helped you avoid a potentially uncomfortable situation, tell me in the comments!